With nearly three thousand golf courses in the UK, it's important that they are constantly evolving and improving. One way a golf course can improve their overall experience is by working with a qualified and experienced golf course architect who is a member of the European Institute of Golf Course Architects (EIGCA). They will look to maximise golf course facilities.
A Golf Course Architect is mainly responsible for the topography, landscape and golf course design. They also create practice facilities and evaluate any ongoing construction work.
At Booth Golf & Leisure we work closely with golf course architects. With this in mind, we wanted to hear from an experienced architect and drafted in the help of Jonathan Gaunt from Gaunt Golf Design to discuss some key points that he looks to consider when designing golf facilities.
1. Course Improvements
The first thing to consider is where can we improve the existing course. Our job isn't always about completely designing new courses or redesigning existing golf courses, but more importantly looking to make improvements with the space the client has.
A thorough on-course assessment is important to gain a feel of what is needed and to highlight key areas. It also helps to form an understanding of what the client requires.
An improved course leads to a better playing experience and potential increased revenue for the club.
2. Practice Facilities
With shorter forms of the game being as popular as ever it's important a course has on-site practice facilities.
Not everyone wants to spend four to five hours playing a full 18 holes. A lot of golfers from beginners to professionals need the opportunity to play in shorter bursts.
Facilities such as putting greens, practice bunkers, driving ranges and academy courses allow players to play for a shorter period.
3. Minimal Impact
A golf course is a business, so any down time can impact upon a golf courses income. This can be due to holes being shut which devalues the course and simply leads to fewer people playing it. It is important to keep the development footprint down to a minimum, although this depends on the size of the changes.
If you can keep a golf club fully operational whilst creating new facilities, then it's a massive win which the members really appreciate!
4. Drainage Issues
As part of any scheme, it's important to highlight areas that suffer from environmental issues. An issue that plagues most golf courses at some point is ineffective drainage.
Drainage issues can be addressed during the design phases where the topography can be reprofiled to help with surface water management and flooding issues.
If you can resolve onsite drainage issues you keep golfers and maintenance teams happy!
5. Sustainable Opportunities
Sustainability and environmental preservation is at the forefront of world issues right now. During the design phase we can look to plan opportunities that allow for sustainable drainage solutions.
Water usage on a golf course is an issue for golf clubs but there are now ways to store drained water and hold it in reserve to be reused as part of a golf course irrigation system using attenuation ponds.
We also look to quantify the amount of soil needed to create a final design. Working with market specialists, golf courses can recycle soils from construction developments. This material is perfectly fine to be used as a building material on Golf Course Developments as it would otherwise be sent to a landfill site.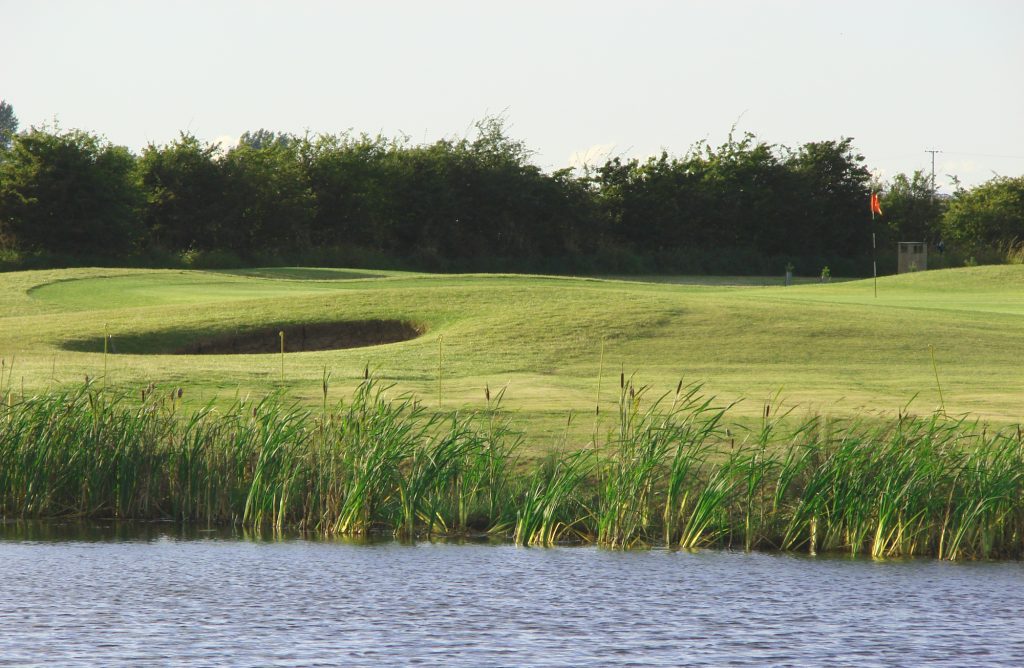 6. Other Opportunities
There may also be scope to improve different aspects of the golf course that impacts the wider local community. Things such as acoustic bunds can be implemented in areas where traffic may be close. This not only reduces noise pollution on the course but provides an effective health and safety barrier that tree planting alone would never achieve.
We can also look to introduce new areas for planting to create new habitats or wildlife corridors. When developing sites, you should always plan to fulfil all biodiversity net gain targets, which will be key to all projects.