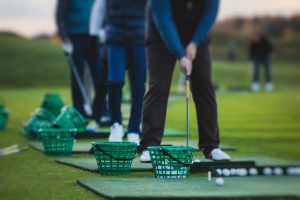 The number of adults who play golf as regularly as twice per month has decreased from the beginning of 2016 which stood at 971,700 down to 693,000 at the end of 2021 (Statista). This decrease started in 2019 which coincides with the Covid-19 pandemic.
However, research led by the R&A, England Golf, Golf Ireland, Scottish Golf, and Wales Golf suggests that participation by adult golfers on a full-length course (9 or 18 Holes) reached 5.2 million in 2020 – the highest figure recorded this century.
Although these findings contradict each other, it could highlight that golf consumers are looking for shorter forms of the game.
This is proven correct by the usage number of driving ranges in 2020 which increased by 2.3 million, highlighting the importance of having on-site practice facilities such as a driving range.
You might be asking is it worth the cost of Golf Course Construction? We think it is!
Here are 5 reasons your golf club should invest in a driving range:
1. Revenue
Without a doubt the number one reason why your golf club should have a driving range is the additional revenue it can produce.
Not all golfers want to practice out on the course for 4-5 hours but would rather practice for a short 1-hour period that won't take up too much of their time.
We aren't saying it will replace revenue gained from on-course play, but rather an additional revenue stream.
A driving range requires a lot less maintenance from your greenkeepers team and can be used in nearly any weather condition.
2. Practice
Combined with course play, practice facilities such as a driving range give golfers the opportunity to practice a lot!
The repetitive nature of a driving range allows for specific practice on a specific shot, whilst in a relaxed environment.
This dedicated space can be important for beginners as it gives them a pathway into the game. Whereas it allows dedicated golfers to practice without pressure and home in on details of their swing and shots.
3. Technology
With the emergence of technologies such as trackman & top tracer, driving ranges can also be a fun experience.
These technologies include a variety of different games such as closest to the pin or the furthest drive competition. This not only improves the experience but also helps golf clubs tap into the casual golf market.
The same tech can be used by professionals to analyse different parts of their game. These systems give golfers instant data on their swing and golf shots, giving them valuable information on things they can improve upon.
4. Increased Membership
This could also be seen as increased revenue, but with golf courses now understanding the importance of good practice facilities, whoever has the best facility offering will generally be able to attract more members.
It also gives clubs the opportunity to increases the membership cost in the medium to long term as they now have a better offering which they could charge more for.
5. Low Prices
Not everyone wants to join a golf club as a member because memberships can cost between £500-£2,000 and in some cases, players still need to pay a reduced round fee! Facilities such as a driving range allow players to get their golf fix at a reasonable price. Generally, an hour playing on a driving range will cost £10 which allows golf clubs to tap into the casual player market.
The golf industry would admit that it has suffered from an identity crisis over the past decade as it tries to make the game more accessible to younger players. We currently live in a world where customers, including golfers, are looking at shorter & faster options which clubs now recognise. The incorporation of practice facilities is now a must for golf courses to tap into this casual market.
Balance is key in this conversation. Nothing can replicate playing a full round of golf but developing a synergy between course play and practice facilities offerings should be a strategy that allows golf clubs to move with the times. Correctly striking this balance allows golf clubs to improve their relationship with existing members and golfing regulars whilst also helping to create a new revenue stream from casual players.
Does your golf club need a driving range? Booth Golf & Leisure specialise in the creation or enhancement of practice facilities. Our complete development package includes the design, plan, and build of driving range facilities. Book your free site assessment today
Sources:
Golf participation England 2016-21 | Statista